FIVE CROWS ARTISTS

Providing a wide variety of work (and prices) for every occasion. Search our site of over 150 artists and artisans by first name.

FEATURED ARTISTS



Every two weeks Five Crows features a different artist or group of artists It is our way to spotlight their remarkable talent. In addition, Five Crows offers a 20% discount on the work of the featured artist.
© Five Crows Gallery and Handcrafted Gifts, May 2016
​

41 Main Street
Natick Center, MA 01760
508-653-2526
fivecrowsnatick@aol.com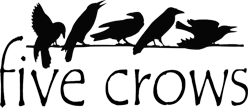 Gallery and Handcrafted Gifts
Sign up for email updates:
Double click here to edit this text.
NEW HOURS
​
November
Tuesday - Saturday
11:00 - 5:00
​
​