© Five Crows, Natick Center / September 2012

Wendy Jo
​New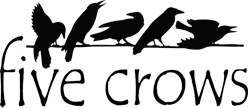 I produce fine contemporary jewelry and other metal designs primarily in the precious metals of silver, argentium, gold, and/or palladium. These are often further defined with the addition of texturing, gemstones and other unique lapidary or resin inlay. I also manufacture photo-etched metal jewelry, cover plates which are attached to journals or framed, and larger etchings used in buildings as entry door logos, addresses, and the like. Designing and fabricating engagement and wedding bands and other jewelry, often with people's stones, is particularly meaningful.

Growing up, I always was mesmerized by sparkling gemstones and metals and I often incorporate something illuminating into my designs. Whether or not I intricately plan a jewelry piece in advance of producing it or just spontaneously fabricate one as I go along, the result is inevitably something that is unique with a contemporary flair that complements, rather than overwhelms, a wearer. When designing jewelry or other metal work, I always think about whether I would wear it, us it, and/or display it. Anyone who knows me sees a reflection of me in what I design.

In addition to gallery, art show, and commission work, I provide private and group course instruction in jewelry design and metal fabrication.