© Five Crows, Natick Center / September 2012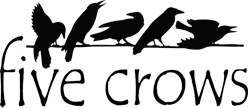 Tony has been beekeeping for 13 years. He started beekeeping as a small hobby, and 13 years later, it has become a large part of his life. "Beekeeping has brought me closer to nature. I have a deeper understanding of the world and environment around me, and I have a more compassionate view of our planet, says Tony.
He lives in Holliston, MA where he has a small farm. Tony is the past president and Bee School Director of the Norfolk County Beekeepers Association (NCBA), past co-president of the Holliston Garden Club, and has been active in the Holliston community for many years including serving as the chairperson of the Holliston Agricultural Commission, a board member of the Massachusetts Beekeepers Association and a past member of Massachusetts Farm Bureau Apiary Advisory Board. In 2016, he was awarded Massachusetts Beekeeper of the Year.
At Five Crows, Tony's products include honey, mustards, lip balms, hand creams and lotions.