© Five Crows, Natick Center / September 2012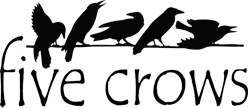 My life as a professional musician has happily allowed for much creative work. Yet, most of this creativity has taken place in the inherently intangible realm of the temporal. Thus, the terrifically tangible process of building sculpture in clay has been an exhilarating contrast.
Art should move the viewer away from a type of isolation that has been brought on by the abundance of "personal" technology that has come about during our time. In the evolution of my work, the questions that have guided me (at times, subconciously) have been "what inspires connectedness?" and "what can most powerfully engage our attention?" Therefore, much of my work is meditative for the audience, either in the questions it poses or the interaction/exploration it invites.

Increasingly, my work has focused on making multi-component, interactive sculptures. Most of these works have innumerable permutations for viewing. Perhaps partially influenced from my background as a professional musician, these flexible sculptures allow for creating variations in the artwork such as might be experienced in the live performance of a musical composition from concert to concert.

​​Suzanne Stumpf has received national and international recognition for both her sculpture and functional ceramic creations. A feature on her sculpture is presently included in the new European magazine, Ceramics Now. Her work is included in the 2009 Lark Books' 500 Ceramic Sculptures: Contemporary Practice, Singular Works, and in the 2011 book, 500 Raku: Bold Explorations of a Dynamic Ceramics Technique.

Her Whale Sounds sculpture is featured in the 2012 Sculpture Calendar published by the Potters Council, and Spike will be included in the forthcoming book Humor in Craft (Schiffer Publishing, 2012). Her work was also featured in the May 2005 issue of Ceramics Monthly magazine, where she was named one of nine 2005 Emerging Artists In 2008, she was awarded an Artist Fellowship from the Somerville Arts Council (MA). Other awards have included Second Prize in the 2004 Strictly Functional Pottery National in Lancaster, PA, Honorable Mention prizes in the national Vessels 2007 exhibition in Durham, NC, and the 2005 Arts Worcester Biennial, Worcester, MA.

Also a professional musician, Suzanne is on the faculty of Wellesley College where she teaches flute and chamber music. She is co-Artistic Director and flutist for the period instrument chamber ensemble Musicians of the Old Post Road, a winner of the Noah Greenberg Award from the American Musicological Society. She has recorded for Meridian, Telarc, and Titanic.​​



​​