© Five Crows, Natick Center / September 2012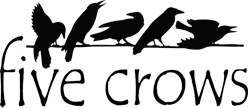 Sherry Anderson, of Holliston, is one of the new "Crows," joining the Five Crows partnership in June, 2013.
She specializes in weaving and paper arts.

Sherry creates beautiful, handwoven, rayon chenille scarves. The colors are striking, the yarn is soft, and the drape around one's neck is gorgeous. She discovered and fell in love with the art of weaving when she moved to the Boston area more than 25 years ago. She learned how to weave by taking classes at a yarn shop in Arlington, Massachusetts. She enjoys choosing yarns, designing with colors and textures, and experimenting with weave structures. Her studio is located in the sun room of her antique, Victorian home, where exquisite, handwoven scarves, table runners, bread basket cloths, sachets and other items are lovingly created. She feels that the greatest reward from weaving is experiencing the wonderful reaction from people who see, touch and treasure the finished piece.

Decorating frames, candle holders and other items using decoupage and papers from around the world are Sherry's other passion. This recent interest began about ten years ago when she took classes in journal, box making, and paste paper. "I am just crazy about paper," says Sherry, and made it a goal on recent trips to Italy and London to find interesting papers, not found in the U.S.

In addition to handcrafted arts, Sherry has a wide and varied background in the arts, business and non-profits, working as the Executive Director of the Performing Arts Center of MetroWest in Framingham, and in public relations, marketing, and fundraising for public broadcasting, educational and healthcare organizations. While raising her two sons in Holliston, she was an active volunteer and leader in parent organizations. She served as president of the Holliston PTSA, where she also coordinated the cultural enrichment program for elementary students, and coordinator of the PTSA fundraising auction. She also served as president, advocate, Disney trip coordinator, and fundraising coordinator for the Holliston Music & Arts Parents Association.

Sherry grew up in the Baltimore, Maryland area, received a Bachelor of Science Degree in Journalism from West Virginia University, and lived and worked in Washington, D.C. before moving to the Boston area. She is a huge Red Sox fan.