© Five Crows, Natick Center / September 2012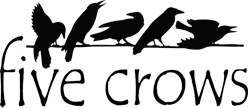 During the course of my life I have had many creative hobbies but have only recently discovered what true creativity really is thru bead weaving. I have always been creative with my hands and loved color so it was only natural to combine the two while creating unique pieces of jewelry using lots of color and texture.
​
Beading is therapeutic for me as I get lost in thought completely focusing on the project at hand. To see a finished project that has evolved from my own mind is truly fulfilling. My bead weaving awakens the visual and tactile senses using beads of different colors and sizes creating unique pieces of jewelry, with the hope that it brings joy and happiness to the wearer.