© Five Crows, Natick Center / September 2012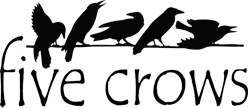 One pottery class has turned into a twenty year long obsession with the medium of clay. I enjoy it's uncertainty, it's immediacy & it's remarkable durability. My current work is a combination of wheel working & hand building that celebrates the beauty of my ordinary surroundings. I use a four step glazing process, fired to cone six, which I feel gives the work a natural warmth that honors the integrity of the medium while relaying my own unique vision. Thank you for purchasing On The Cusp Pottery and I hope that you enjoy it as much as I enjoyed making it.
I sell work at craft fairs, art festivals and fine gift stores throughout the north east. I currently teach at Kimball Jenkins School of Art in Concord, NH.