© Five Crows, Natick Center / September 2012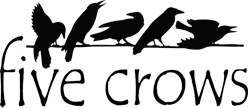 Beach inspired mosaic candle holders and vases are made from sea glass, sea shells, stones, foliage, broken china and found objects. Using high gloss epoxy, each unique design is adhered to the glass so as to appear part of the glass itself. Functional and versatile, these glass pieces can be used as centerpieces, candle holders and vases.

"I've been a beachcomber all my life. I can't walk the beach without coming home with at least one "treasure" in my pocket. A shell, a stone or the elusive piece of sea glass, each unique and special because of where and when it was found. Over the years these treasures turned into collections and eventually part the mosaic designs of Beach House Rose.

My work with mosaics is self taught. I began with basic frames and then more elaborate wall murals and backsplashes with tight designs using grout. To me grout felt heavy so I experimented with mosaics on glass using a high gloss epoxy. Mosaics on glass have a lighter quality and best of all, everything appears wet. Shells, stones and especially sea glass come alive and look best when they are wet. Putting mosaics on a four sided piece using epoxy can be a challenge and its taken time to get it right but it's worth the extra effort when the end product is both unique and functional.

I've always been inspired by nature. When I'm not playing with mosaics or creating something, I work as a gardener. I'm married with 2 children (HS and College) and 2 dogs. I've lived in Natick for 22 years and spend summers on Cape Cod.​"