© Five Crows, Natick Center / September 2012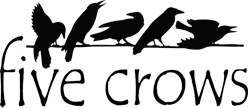 Richard Chan has been woodworking for six years. A self-taught woodworker; the only woodworking class he has taken was in middle school. Richard has always enjoyed working with his hands.​​​ "I've made many plastic and wooden models when I was younger mostly military related. "
​
​"I turn pens, bowls and plates from my lathe. I use both natural and manmade materials for my products. I love th e warmth and beauty of the natural woods, but I can offer endless colors from manmade material. I can mix different pigments into resin to create endless combination of colors."
​
When not turning on the lathe Richard enjoys making furniture such as end ​tables, coffee tables, hall tables and hall benches." The style of furniture I like to make is the Craftsman Style or Mission Style. I like the straight lines, classic look and the challenge of making mortise and tenon joinery."