© Five Crows, Natick Center / September 2012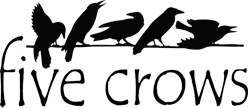 Ramune is a Wellesley resident working as an artist and teacher. She teaches locally in Needham, Dover, Belmont and Brookline. Her favorite mediums are soft sculpture, felting and pottery. She creates whimsical mermaids, colorful felted bags, and fun pottery, among many other items. Her work is sold in the Boston area, Cape Cod and New Jersey.
​
Ramune also works creating faux paintings for businesses and does murals and faux finishes for residential homes. You can view one of her murals at Caffe Mucca Blu in Needham. Custom work available thru Five Crows.