© Five Crows, Natick Center / September 2012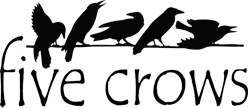 Nanci Jaye is a graduate of Philadelphia College of Art receiving a Bachelor's degree in printmaking/ textiles. She designed custom fabrics for clothing designers and developed a scarf line which was represented in a showroom located in the garment district in New York City. Her unique scarves could be purchased at The American Craft Museum New York City, Nordstrom's Washington, Henri Bendel New York City, Fred Siegel's Beverly Hills, Creative Strategies Honolulu, and The Museum of Fine Arts Houston, to name a few. The scarves were also featured in publications including Elle, Harper's Bazaar, Cosmopolitan and Women's Wear Daily.

On a trip to Rome and visiting the Vatican, Nanci became inspired by the mosaic installations. Coming home to Hull, MA., she taught herself the craft. Her choice of imagery comes from living near he beach and her love of the ocean. Nanci sells her work in many galleries including Provincetown, MA, Portsmouth, NH, Surf City, NJ and Naples, FL. Her mosaic work has also been featured in various publications including South Shore Living Magazine and The Patriot Ledger.