© Five Crows, Natick Center / September 2012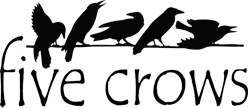 Mr. Harrington lives in New York City, and routinely makes gifts for Neiman Marcus, Rodeo Drive, and Beverly Hills. Much of what he does features objects from nature.

For years I made beads for the fashion industry. Using these proprietary beads as barrels, I then made fancy pens and have made and sold 15,000 of these pens across the country -- to Neiman Marcus, Rodeo Drive and Beverly Hills. Since the recession I've branched out (sales were down) and have been selling beads at bead shows, and jewelry made from my own beads at gift shows. I also make accessories in the form of scarves, hat pins, and hairsticks. I use many organic and recycled materials. For example: rec. paper, rec. eyeglass lenses, lotus pods, seed pods from the gum tree, star anise, popcorn, bath lufa, walnut and almond shell cross-sections, etc.

About Michael Harrington's beads:

No one in the state, in the country, in the world, is making these beads other than Michael.
These beads can't be bought online, only in bead stores such as Five Crows.
All of the beads are made by hand with a proprietary process called "Cold Fusion".
These beads are nationally recognized as they are featured on page 10 of the January issue of Bead Style magazine.
These beads are nationally recognized as they are featured the back page of the June/July issue of Beadwork magazine.
The beads are unbreakable and warm against the skin.
The beads are made from recycled eyeglass lenses. They weigh about a third that of glass or crystal.