© Five Crows, Natick Center / September 2012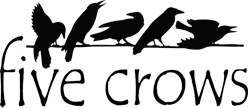 Originally a clothing designer, I got hooked on making jewelry 8 years ago when I took several classes. Jewelry gives me endless possibilities to use color, texture and design elements similar to clothing design.

I fell in love with the traditional Japanese technique of hand knotting gemstones onto silk thread. Using a stronger twisted nylon thread for my necklaces, they have a fluid, lightweight and delicate quality. Necklaces, earrings and bracelets are crafted from sterling silver, gemstones, pearls and leather. Nature inspires my peaceful color combinations and designs.

I recently added a new line of hammered and etched pendants made from copper, brass and nickel silver. I love taking classes and always try to bring new ideas to my jewelry.

I can't think of anything I'd rather be doing than creating from my heart and working with my hands. I am so proud to be one of five owner/artists at the Five Crows Gallery in Natick Center and be surrounded by beautiful local artwork.