© Five Crows, Natick Center / September 2012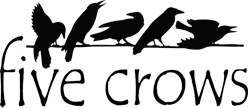 Marianne Ives, a native New Englander, studied art and
metal- smithing from an early age.

​​Her ornaments are produced on a hundred-year-old, three ton kick press, using dies hand-cut from tool steel and hand-painted.

To make her keen (and often whimsical) observations of our natural world accessible, she has made several series of unique hand-painted characters. These images reflect her many trips observing the flora and fauna of our planet. Astute collectors and those with a gentle eye will enjoy these handcrafted illuminations.​​​