© Five Crows, Natick Center / September 2012

David Pollock​


(Maggie's Farm​)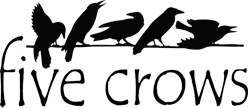 For over 20 years Maggie's Farm has been creating some of the finest handmade wooden utensils money can buy. Founded on the concept of marrying functionality with natural beauty and comfort, we strive to provide you with a product that is not only great to look at, but purposeful and useful as well. When you hold a Maggie's Farm utensil in your hand you'll instantly sense the years of thought and design that have made them such a joy to use. Each piece has its own specific purpose, and often at the same time, many uses. Who knows? You may even find a use for one of our utensils that hadn't occurred to us!
​
I have been a full time professional sculptor working exclusively in wood for 35 years. There have been several phases of subject matter for this work. For several years the concentration was on sculptural lamps, clocks, vases, candelabra and other home accessories. During another period of about 8 years the focus was solely on sculpture in the round of a floral motif. I currently produce a few of these pieces.
I am also now producing a line of gourmet cooking utensils featuring ergonomic designs and a very smooth tactile finish. This line includes: decorative and functional sets of 3 and 5 utensils with hanging racks, spoons of 7 different designs, paddles of 3 designs, spatulas, ladles, French rolling pins, salad sets, cheese board sets, cutting boards, whisks, ice cream spades, spreaders, bowl scrapers, and pastry scrapes. I also carve letter openers, hair sticks, and back scratchers.
​
The process consists of hand guided band sawing, rough carving with belt sanders, and hand finish sanding with the use of a sand-o-flex and a pump sander.
The business consists of 1 full time and 4 parts time assistants whom I have taught myself. I do all the final carving and sanding.