© Five Crows, Natick Center / September 2012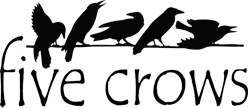 Earth, fire, water, air - pure alchemy. Liza is a mother, maker and artist drawing on the elements of nature to create pieces which ignite a feeling of joy for their users. She makes large and small ceramic vessels which are inspired by gemstones and the ocean. The dishes fuse stained glass, 22k gold, resin and stoneware clay into a food safe piece which can be used for display, spices, rings, or whatever your heart desires. Liza also makes mugs with slip painted animals and words meant to enrich and inspire others lives. "I feel a spark of joy in my heart every time I open the kiln -- people can feel that -- and thats how I know its good work."

​Liza has lived in many different places around the United States and traveled quite extensively around Europe and the Middle East. Currently she is a mother of two, Holistic Health Coach, Reiki Master and Artist living in Natick, MA. In 1997 Liza graduated from Skidmore College with a BS in Art Education. After graduating she moved to Austin, TX and worked as a production potter and then onto Amelia Island, FL where she worked professionally as a mural artist, faux finisher and furniture painter. Liza moved to Boston in 2004 and was a middle school art teacher for Boston Public Schools in Roxbury, MA before having children and completing her Reiki Master training in 2012. In 2012 she co-founded and co-owned Palettes paint and wine studio in downtown Natick, which was sold to the new owners in 2015. After Palettes she turned her energy back to health and wellness and completed her certificate in Holistic Health Coaching from the Institute for Integrative Nutrition. Now Liza is back doing art once again -- working mostly in clay, glass and gold — and loving every minute of it.