© Five Crows, Natick Center / September 2012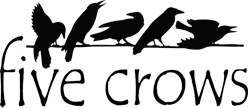 Threadbear animals are all original soft sculpture designs, machine and hand sewn by the artist. Fleece, sherpa or velour is used for the bodies & stuffed with 100% new polyester. They are hand washable & air dryable with care. Safety eyes are always used. Noses are made from ultrasuede & hand-sewn in place. Each animal comes dressed in a handknit sweater & coordinated pants or skirt.

​An assortment of animals are available: bears, dogs, cats, rabbits, birds, frogs, raccoons, sheep, alligators and pigs. Special requests are accepted.