© Five Crows, Natick Center / September 2012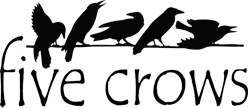 Lev Brown was born in Moscow, Russia in 1939, and immigrated to the United States in 1980. He spent most of his professional career as an electrical engineer, followed by running a successful small computer business for over 10 years.

In his own words "I was always fascinated with how an artist can create a very rich image with just a few lines". Being married to Eugenia for over 50 years - an architect and a very creative woman in her own right - Lev has had plenty of opportunity to observe various artistic styles and approaches.

He first discovered his own artistic potential only a few years ago when he took an art class and started creating etchings on 'scratch' paper. This class started him on the path to exploring other artistic forms, which is how he created his first flower made out of stone.

With his ever-evolving design for the 'Stoned Flowers', using natural stones and simple metal rod 'lines', Lev has created a very simple, yet beautiful design, where no two flowers are ever the same.