© Five Crows, Natick Center / September 2012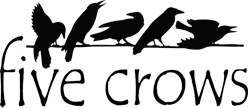 I started my artistic career making puppets at the Cleveland Art Museum. Crafty ever after, I dabbled in sewing and crocheting, but beads captured my soul in 2004. Beads offer unlimited challenges, mastering a myriad of stitches, combining colors and textures, and designing one-of-a-kind necklaces and earrings.

In my day job as a Literacy Specialist I unlock the puzzle of a student's struggle and lead them to strength and renewed confidence.

Other hobbies include celebratory bread sculpture. Weddings, birthdays and other life events inspire me to create edible, custom designed tableaus and scenes.

Whether beading, reading or bread-making, I treasure the process and the products. It is my privilege to be part of their creation.