© Five Crows, Natick Center / September 2012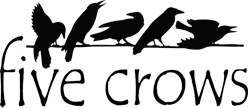 Cody's Creations, founded and owned by Kerrie Beck in 2010, is where pet fashion meets function! Kerrie started making items for her own dogs because she could never find exactly what she was looking for.

Kerrie offers handmade dog collars, cat collars, leashes and custom harnesses. She also offers distinctive items such as The Pocket, which is a bag to hold your dog's greats while you are on a walk. She also offers The Pouch, a bag to hold a leash. Buckle collars can be made into martingale collars at no additional charge - matching leashes are available as well!

Based in Natick, Kerrie now offers more than 150 different styles of collars and leashes. Custom products are also available.
A portion of every sale is donated to a shelter or rescue organization.