© Five Crows, Natick Center / September 2012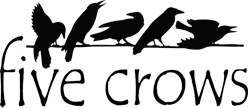 I like to think of my work as a place where art and nature intersect. Pottery epitomizes the most basic and magical elements of nature: earth, water, air, and fire. Yet it offers endless invitations for experimentation and happy accidents. After nearly 40 years of working with ceramics in some form or another, I still feel like I am just beginning to explore its possibilities.
From my first exposure in my aunt's simple ceramic studio when I was just 7 years old – to the first moment I sat at the pottery wheel 20 years later – I've been lost to the magic of clay. And while I'm a science geek by day, I spend my every spare minute in the studio. Working in clay frees my imagination and allows me to escape down the rabbit hole and through the looking glass. There is nothing more satisfying to me than creating something from a lump of clay, transforming mud and rocks into a piece that is delicate and beautiful – something that epitomizes the source from which it was born – Mother Nature. Her patterns, colors, shapes, and sounds are my inspiration.
My travels, and studies in Shambhala art, have had a significant influence on my work over the years. I love surfaces transformed by wind, water, and time: smooth, polished rocks on the shores of Maine, worn and mossy carvings of ancient Korean Buddha's. From soft shorelines, to rugged mountain terrain and wooded-paths, I am continually inspired by the eternally changing studies in color, light, and texture. The surfaces of my pieces reference these variations. Re-invigorated by recent trips to Acadia National Park, and inspired by the strong native culture there, I am now incorporating sound into my work, creating drums and flutes from clay.
In that spirit, it's my hope that my work reflects not only the beauty of nature, but also the contradictions of both its simplicity and complexity – and my pots go out into the world to make some meaning of their own.