© Five Crows, Natick Center / September 2012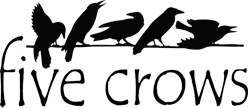 I established JoLa Designs in 2009 after leaving the corporate world behind and began a new journey...making jewelry, which has been a lifelong passion and one, which gives me great, joy and satisfaction.

When designing jewelry, I experiment with combinations of color, textures and shapes to create unique, handcrafted one-of-a-kind jewelry. I use a variety of semi-precious stones/beads/pendants that I collect from wherever my travels take me. Very often I will construct a new necklace using sections or pieces taken from vintage jewelry. A favorite part of my work involves clients who bring in jewelry that belonged to their mothers, grandmothers, etc. We will brainstorm together to rework and fashion the jewelry into something more in line with their own particular style, while maintaining parts from their loved one's original piece. My ultimate goal is to create jewelry that is not only aesthetically pleasing but also comfortable and exciting to wear. I take great pride in each and every piece of jewelry I create.

My studio is located in Natick Center and I am blessed to share space with five wonderfully talented and supportive artists. I reside in Natick with my husband and daughter.

Please contact me with any questions regarding my collection. I look forward to the possibility of designing and creating a special piece of jewelry…just for you!