© Five Crows, Natick Center / September 2012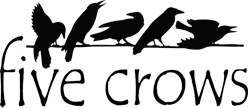 This accomplished artist has studied a variety of art genres - including oil, acrylic and watercolor Painting, Fiber Arts, Pottery, Batik, Printmaking and Collage. Janyce is now a Certified Arts and Crafts Teacher.

She currently works with Assemblage - three-dimensional artistic compositions created by combining found objects. The origin of this art form traces back to the cubist constructions of Pablo Picasso. Janyce brings a unique point of view to this artistic medium.