© Five Crows Gallery and Handcrafted Gifts | September 2012

Ginger
McEachern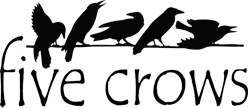 As a lifelong artist, Ginger's work reflects a rich childhood spent in New England, crafting alongside her grandmother. "Vibrant colors of my parents' gardens and the rich tones from my grandmothers braided rugs provided early inspirations, still infused in my mixed media pieces today".

Working from her Natick Center studio, Ginger creates hand-built boxes wrapped in hand-painted paper or maps, journals, and jewelry. Ginger's jewelry can include paper, stamps, resin, sea glass, shells, old books, buttons and even butterfly wings.

Ginger has, over the past 6 years studied watercolor painting and is now showing her paintings which often appear in her greeting and notecards as well as wall art. "I get inspiration from and love painting nature in all its forms.

In 2015 Ginger completed illustrating​​ her second children's book.


​Rock Star

, written by her friend and fellow teacher Kelly has created science rich stories that are delivered to readers in a rhythmic format and anchored by beautiful and original artwork.

A Fishy Tale

is the first book created by their partnership and was published in 2013.