© Five Crows, Natick Center / September 2012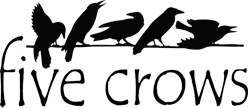 Using silver, copper, and brass, my work is inspired by things spiritual and ancient, reflecting our connection to all beings. Petroglyph designs such as spirals and hand shapes; inspiration from nature such as a crow against the moon, wolves, and cats; and images of women dancing and hearts are all expressions of deep emotion, feelings that I could not express using other materials.

I create silver jewelry and copper-covered blank books as well as bookmarks of silver, copper, or brass. Each piece is individually made and hand cut, designed and produced by the artist. My sterling-silver jewelry has an organic feel and a distinctive oxidized finish that adds an unpredictable wash of gold, red, pink, and blue-black, making each piece unique.

Sinuous silver, copper, and brass shapes make wonderful bookmarks. I bend heavy-gauge wire with pliers into such shapes as spirals, cats, notes of music, and steaming cups, hammer them flat on an anvil, and then polish them. Part of each design hooks over the top or bottom of a page to mark the place.

I have always worked with my hands, from doing carpentry as a child with my father to drawing, painting, knitting, and other crafts. An adult-education class introduced me to silversmithing, which expressed my feelings and ideas better than other mediums. I design and produce all my work and value the challenge of earning my living by doing what I love.