© Five Crows, Natick Center / September 2012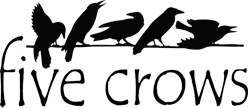 Gail Fischer uses her art photography to bring her unique view to others, whether she in on a commercial or editorial assignment or creating her more personal creative work.

Born and raised in Kentucky, Gail first began experimenting with photography while in high school. Discovering a passion to explore and master the medium, Gail pursued a degree in Fine Art Photography and Art History from Northern Kentucky University and furthered her studies and work in Tucson, AZ and later New York .

Gail loves to find shots that illustrate a sense of humor or mystery. Her compositions are based upon the principle that the viewer takes a second look at the image to determine what is involved in the photograph. She gets her best shots while roaming small towns and villages, snooping around gardens and backyards, and hiking and biking in the late afternoon.

Gail is currently living in Needham, MA. Her freelance work includes public relation, editorial, portrait, and fine art photography. Her new imagery is printed on hand made paper and embellished with oil pastels.

Her fine art and hand painted work has been featured in numerous exhibitions and juried shows including: Zullo Gallery& Zebra Restaurant, Medfield, MA; Diana Levine Fine Art Gallery, Boston Design Center; Starr Gallery, Newton, MA; Newton Free Public Library, Newton, Ma; Camera Club of New York, Helio Gallery, New York; Murray State Museum, Murray, KY; Cincinnati Arts Consortium, Cincinnati, Ohio.
Juried award –Artisphere, Greenville, SC 2011.

Gail's work is in several private collections both in the United States and Europe. Her work is also in the collections of: Massachusetts General Hospital, Boston, MA; Valley Hospital, affiliate of New York Presbyterian Hospital.