© Five Crows, Natick Center / September 2012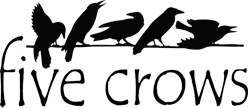 Frank Farrice is an assemblage sculpture artist. It all started for Frank with a box of odds and ends left in a closet by his late father-in-law, Willie. Frank was inspired by the shapes he found and created a birdhouse in remembrance of his father-in-law.

"I made one for my wife, my daughter, my mother-in-law, my nieces and my sister-in-law so that everyone had a little bit to remember Willie by," says Frank. The birdhouses would ultimately become a signature item for this artist. Frank's whimsical birdhouses are made from a variety of household items. Assemblage sculpture consists of three-dimensional artistic compositions created by putting together found objects. The origin of the art form harks back to the cubist constructions of Pablo Picasso. Frank's work currently includes everyday objects which he re-imagines in whimsical new ways. This fun pink pig sculpture is an example. It is especially popular with Five Crow patrons.