© Five Crows, Natick Center / September 2012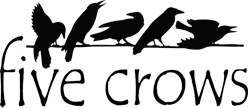 Eric was born and grew up in Maine where he nurtured a deep love of Nature and of the sciences which probe and reveal the profound beauty of its complexity. After receiving his B.S. in zoology from the University of Maine, he moved to California for several years, only to return to New England to marry his college sweetheart and obtain a Master's Degree in molecular biology from Northeastern University. Eric is now a research biologist and has lived in Framingham, Massachusetts for more than 20 years, where his odd hobbies are tolerated by his wonderful wife, two fantastic daughters and a great little dog.

"One aspect of photography which I have always loved is its ability to accurately isolate discrete aspects of the natural world and hold them fixed for the viewer to contemplate and appreciate. And of course Man and his creations are also integral parts of Nature. Our species' interaction with the rest of Nature adds an astounding and deeply personal layer of wonder to the unending project of capturing tableaus of beauty around us".