© Five Crows, Natick Center / September 2012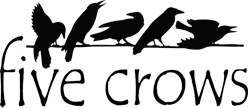 Elizabeth Varano paints bright and beautiful floral patterns on glass. Her vases of every size and shape are colorful and expertly painted.

The later fact is amazing as Elizabeth has only been painting for a few years! Other than an art award in high school, she has not worked in the field. It all began when one of Elizabeth's nieces asked her to paint a glass box for her wedding. From there, Elizabeth feel in love with the beautiful shapes and wide variety of glass vases available to her. Elizabeth paints on clear glass. She begins with an undercoat and then paints a floral pattern. Each vase receives three coats of protective varnish when they are complete. Elizabeth explains that she never starts with a plan, she just starts.

Elizabeth likes to work on her back porch. Beautiful scenery? "No" she says, "I paint on the porch because of the natural light." When asked what inspires her, Elizabeth remarks, "I enjoy painting because of the relaxation it provides!" That sense of relaxation is reflected in her work.