​​​

​​
​​​​​​​​​
Administrifia
​PAYMENT POLICY
Payment is due upon registration.

​REFUND POLICY
In order to give our teachers time to prepare all registrations must be in one week prior to the start of class.​
Full refunds will be made if class is cancelled due to insufficient enrollment.
Student cancellations must be received at least one week prior to class date in order to receive a refund (minus a $20 processing fee).
We are not able to give refunds once the class has begun, or within one week before the class start date​.

NOTIFICATION
If a class is cancelled due to low enrollment, registrants will be notified 1 week before the start date.​​​​​​

INCLEMENT WEATHER
Please call Five Crows for cancellation information. (508) 653-2526.
​We will make every effort to make the best decisions we can about whether to run classes when weather may be an issue. We will also do our best to call registrants if class is cancelled due to inclement weather.

PARKING / ACCESSIBILITY
Parking in Natick Center is free after 6:00pm. For daytime classes there are 5 hour metered spaces in several lots near the shop; a small lot on Summer Street and in the large lot facing Main Street.
Saturday parking is free all day in the large lot behind the shop.​

SHOP ENTRANCE​
Please note that we have moved to 41 Main Street, still in Natick Center​​!
For classes that are held when the shop is not open, please enter through back door.

​​​​Classes are held in the basement. Ability to descend and climb stairs is required.

​
FOOD & DRINK
We encourage students to bring snacks and drinks so that you can be comfortable throughout the entire class. Bathroom facilities are available upstairs from the classroom.
Registration Form
Spring 2019
Class/Workshop Schedule​


Beginning/Continuing Watercolor Class
Instructor: Laurie Leavitt

Beginning students learn about the quick, clean and unpredictable watercolor medium and acquire basic skills by practicing different techniques. Through exercises, instruction and demonstrations you will be able to handle watercolor's transparent washes and begin to use it for your own expression. We will also work from still-lifes, photographs and your imagination.

Continuing or new students who have some experience with watercolor and want to continue to practice. I will demonstrate different techniques and approaches to still life and landscape subjects and give class assignments. Students are free to take their work in any direction. All abilities are welcome.

Dates: Monday night, 6:30- 8:30, April 29 – June 3, 2019
Time: 6:30 - 8:30
Cost: $145.00​​
Materials List available upon registration.

​


A Day of Needle Felting 2-D Art
Instructor: Lyn Slade

This workshop is for those with some basic knowledge of needle felting. ("Basic" means – if you've picked up a needle felting needle and given it a good try and you own a foam work surface and a needle or two.)
Bring some photographs of landscapes or simple subjects that appeal to you and the instructor will help you choose one to interpret in needle felting. Expect to create an artwork approx. 8" x 10" by the end of the workshop.
Because each person will be working on their own subject matter, you will have the opportunity to learn more techniques by observing your neighbors as well as creating your own art. Participating in a group workshop is so inspiring and fun! Join us for a great day of creativity.
Bring your foam, needle-s, and a pair of scissors and the instructor will bring a palate of 60 +/- colors of roving and background wool fabric.

Date: April 27, 2019
Time: 10:00- 4:00
Cost: $80.00
Materials Fee: $8.00 payable to instructor
Wet on Wet Watercolor
Instructor: Evelyn Bernal

For intermediate and advanced watercolor students this one day workshop will focus on Wet on Wet technique. Pigments are applied on wet paper in order to obtain very special effects with colors mingling freely into each other achieving soft and hard edges.
The morning portion of the workshop will be dedicated to forests with a demonstration. After a half hour lunch break the afternoon will be dedicated to flowers also with a demonstration.

Date: Saturday, March 30, 2019
Time: 10:00 - 3:30
Cost: $100.00
Class Limit: 10 students
Supplies: artist quality watercolor paints, adjustable spray bottle, 140lb. cold pressed watercolor paper (Fabriano, if possible), brushes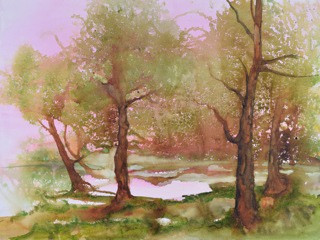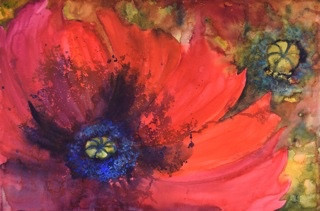 Bold Strokes Watercolor Workshop
​Instructor: Mary Erickson

Stroke painting is fresh and spontaneous! Bold strokes can be a welcome break from traditional painting techniques. We will look at live still life objects and paint what we feel versus a more academic approach. This workshop is for intermediate/advanced watercolor students.

Date: April 6, 2019
Time: 10:00 - 1:00
Cost: $65.00
Supplies: students should bring what they usually paint with.