© Five Crows, Natick Center / September 2012

Caterina & David
Weintraub​
​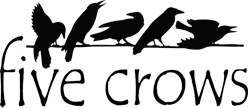 Caterina Urrata-Weintraub and David Weintraub, Fianna Glass Studio
Caterina and David are the co-owners of Fiamma Glass Studio. They are both native Bostonians and graduates of Massachusetts College of Art and Design where they each studied Fine Arts 3d and Glass. Today they teach, work and create glass together in their Waltham, Ma studio.

Two of the techniques that the Weintraubs use to create glass artwork are flameworking and Fusing. Flameworking is the art of manipulating molten hot glass using a torch. Pre-formed glass rods and tubes can be heated and manipulated into beads, figurines, ornaments, jewelry, sculpture, and more! Glass Fusing is the process of creatively cutting and arranging sheet glass and other bits in which to "fuse" or melt in a kiln overnight. One of a kind jewelry, suncatchers, kitchenware, and more can be made with this fun process.