© Five Crows, Natick Center / September 2012

Caroline
​Cockrill​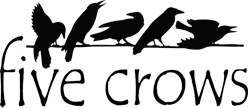 Most artists have been artists since childhood, as I have. At Mass. College of Art, I found clay and was hooked. The texture and unlimited possibilities of shapes and glazes and the firing alchemy got me. One could make anything, of any shape or texture, dip it in earthy colors, and cook it until it hardened into a permanent sculpture, or something useful to eat on or drink from.
I have my studio in Holliston, MA and have been working with clay since 1968. I have been married for quite a while now, and our two children are grown up and married. Our daughter is an artist and teaches art in Maine, and our son is close by and works with his dad as an engineer.
In the past I have taught in the Holliston After School Program, and taught adults at my studio, and at the Danforth Museum School. I have exhibited at many local craft fairs, and artisan shops, and currently am a member of the Clever Hand Gallery in Wellesley and seasonally at the Cambridge Artists Coop and Artisan's Way in Concord.
I still love to do painting in oil and watercolor. The white porcelain I work with now is a perfect pure white surface to paint on with bright colored underglazes, followed by a clear protective and impervious glaze, so I am still painting, sometimes even landscapes, but on clay. The nature around us inspires my work, and I enjoy pressing in actual leaves and twigs or shells. Also, I enjoy animal motifs, and they sit and run on my dishes, especially dogs and cats. So, the customer gets a painting as well as a pot .
I am happy to be joining the Five Crows Gallery in Natick, and hope to get to know new friends through my work!