© Five Crows, Natick Center / September 2012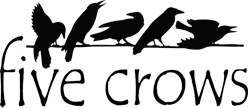 Beth Hoffer, a resident of Holliston, MA, is inspired by the natural and architectural beauty of New England. Her photography represents a wide range of New England. Shoot locations include the Maine coast, White Mountains, Cape Cod and Boston and its suburbs. The photographs bring to mind favorite places and pleasant memories of time spent in New England.

Looking at the world through her lens, Beth has come to appreciate that everything changes, be it by the season, day or minute. She is known for her innovative triptychs and has also produced two posters "Doors of New England" and "New England Lights" (featuring some of New England's most picturesque lighthouses). Her artwork is available as framed art, matted prints and note cards.