© Five Crows, Natick Center / September 2012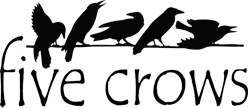 My interest in beads began in grade school when I lived in Belgium and discovered Véritas, my first bead store. Mesmerized by the seemingly endless collection of sequins, beads, metallic confetti, rhinestones, and other sparkly attractions, I could spend hours trying to select which items to purchase.

Over the years I learned numerous other arts and crafts, including knitting, crocheting, quilting, needlepoint, cross-stitch, quilling, wood-painting and watercolors. In the late 1990's I took a beading class, which rekindled my love of beadwork. Since then, I have attended several beading classes each year to learn new techniques and applications. My latest adventure is with silver Precious Metal Clay, which will soon be incorporated into my jewelry repertoire.

When I am not busy with my solo law practice, I am usually parked under my task lamp beading. My beadwork allows me the opportunity to experiment with many color palettes, stitching techniques, and unique focal beads, all of which capture my imagination and let me unleash the right side of my brain.