© Five Crows, Natick Center / September 2012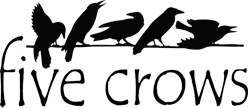 "A piece of tile is a blank canvas. My mission is to transform it into a coaster with personality!" says Anne Cullen.
Several years, Anne's son was diagnosed with chronic Lyme disease. He missed almost two years of school and she wanted to be home to take care of him. At the time, her family had purchased a summer cottage in Mattapoisett, MA. While there, Anne made floor mats out of fabric to decorate the floors. "All of my friends loved them and they encouraged me to make a small business out of it, which I did," she says. Working on the mats helped her forget the stresses of her son's sickness which was really important. Thankfully, he has fully recovered and just finished his first year in college!!
One thing led to another and she started to think of ideas of how to use up left over fabric. She thought about coasters and became hooked. She loves to find special handmade papers from all over the world and create unique designs that will transform a tile into a work of art.