© Five Crows, Natick Center / September 2012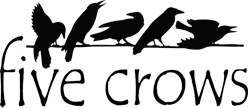 Anastasia O'Connor graduated from high school with a passion for painting, drawing and fiber studies. She made her way west and is currently attending The School of the Art Institute of Chicago (SAIC) for her Bachelor's Degree in Fine Arts.

Anastasia presently donates a portion of the proceeds accumulated from her art practice to the Native American Rights Fund (NARF), an organization dedicated providing legal assistance to Native American tribes, organizations, and individuals nationwide.

Anastasia is innately drawn to vibrant colors and intricate textiles, which is reflected in her meticulous work with dreamcatchers. Specially handcrafted, each dreamcatcher acts as a gift of protection and peace offering. Traditionally, in Ojibwe (Chippewa) culture, the dreamcatcher is a woven willow and sinew hoop hung above the bed as a protective charm. Just as a spider's web catches and holds whatever it comes in contact with it, these would catch any harm that might be in the air. Though some view the modern day dreamcatcher as an undesirable form of cultural appropriation, Anastasia hopes to pay a respectful homage to past traditions with her dreamcatchers. She crafts and concentrates love and light into each and every dreamcatcher. Anastasia infuses elements of Mother Nature's art with her own; elements such as extreme detail, pattern, repetition, texture, and colors with heavy earth tones. Also, being of Incan descent, Anastasia is working to improve her comprehension and portrayal of Native American cultures within her continuing work. Anastasia's latest project "Chakana Arts", progresses her wish to channel positive energy into her art with an overall positive outcome.