© Five Crows, Natick Center / September 2012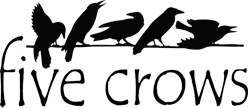 Alan's Interest in working with wood started at an early age, watching and assisting his father with construction projects around the family home. His father, skilled in carpentry taught Alan the skills needed to use hand tools and layout projects. Later, construction projects in his own home turned to new interests in the finer details of woodworking and some early pieces of furniture. Twenty five years later the joy of working with wood is still alive and kitchen woodenware and furniture continue to flow from the workshop.

Alan's solid wood cutting boards are functional and artistic. Each cutting board is crafted from hand selected lumber, curly maple, bird's-eye maple or cherry. Each cutting board is shaped by hand for an elegant shape and balance. Careful hand sanding and buffing with fine steel wool produce a satiny smooth surface that is silky to the touch.